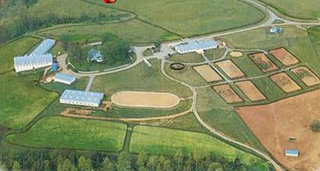 Windy Hill Farm's over 300 acres nestled in the rolling Virginia Blue Ridge Mountains features an abundance of grass and beautiful pastures. Our farm features an excellent broodmare facility and barn lab that arranges transported semen and offers the training of the offspring.
The farm is open to amateur and juvenile riders under the direction of Karin Folkers, whose expertise is in starting young horses. Karin works with a horse's natural talent, adds excellent training, and the end result ends up in the winner's circle.
Please follow the links on the navigation bar to the left to see our horses for sale, find information on our lesson program and camps, read show highlights, and view pictures from around the farm and from recent shows. Feel free to contact us if you are interested in purchasing a horse or joining our riding program.
Click here to download our brochure. You will need Adobe Acrobat Reader to view the file - to download the program for free, visit their website.
Windy Hill Farm is now accepting horses for boarding - contact us via e-mail or call us at (434)386-4350 for more information!